About Me
---
---
I'm your buddy, friend.
I'm your friend, guy.
I'm your guy, buddy.
---
Contact
Dr. Dre's Extra-Strength Dose
dre@13f0.net
---
Computers
Proficiency
Typing speed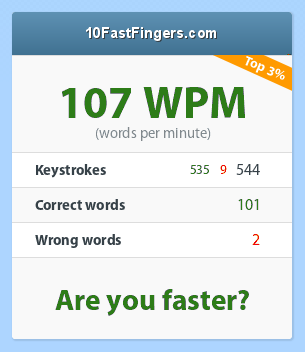 Programming
Almost none, other than hard-to-read POSIX shell scripts.
Systems
As most of us, I have relied on some form of UNIX for day-to-day computing since my early teens, starting with a brief test-drive of Ubuntu, and then installing Arch Linux a few months later.
I tried many distributions on my main computer for a few years, including but not limited to: as already mentioned, Arch Linux; Void Linux, Bedrock Linux (Arch+Void), OpenBSD, Artix Linux, Obarun Linux, Devuan Linux.
From middle- to high-school, I did a few homehosting experiments on a spare laptop using NetBSD and Parabola GNU+Linux-libre.
I have configured and managed Devuan Linux and OpenBSD VPSs in the past, although not for extended periods of time.
Currently, I have found myself relying on Devuan, since around the time when Beowulf had been recently released. I have also given self-hosting a rest, and am comfortable with the service providers I rely on.
Peripherals
Keyboards: IBM PC/XT Model M Enhanced Keyboard (P/N 1390120), Microsoft Wired Keyboard 400
Pointer: Logitech G502
Software
Text editors: nano, nedit. Provisionally: vi
WMs: Notion, dwm, WindowMaker
Browsers: Web Browser, qutebrowser
Terminal emulator: XTerm
IM Clients: Psi+
Dockapps: wmclock, wmnd, wmgtemp, wmtop, wmmisc, wmsysmon -l, wmsystemtray
Hosts
orb

OS: Devuan Linux unstable
Host: KGPE-D16
CPU: Opteron 6282SE
GPU: RX 480 (Polaris10)
Kernel: 5.x
WM: Notion
WM Theme: tiny
Qt5 Theme: QtStep
GTK+2 Theme: OneStepBack

---
Audio
DAC/ADC/Preamp: Apogee Duet Firewire
Microphone: Shure SM58
Field recorder: Tascam DR-05
Portable music player: Also the Tascam DR-05
Powered monitors: Yamaha MSP3
Headphones: Mackie MC-350, Tin HiFi T2 Pro, Sony MDR-7506
---
Video
Monitors: LG 24GN600, Dell P190Sf
---
Videogames
Still a work in progress
Here is the full list of games I've played.
The year denotes the first time I played that game.
<=2008
Super Mario Kart
Mario Party on GameCube (could have been 4, 5, 6 or 7)
2009
MX vs. ATV Unleashed
Mario Kart DS
Plants vs. Zombies
Bejeweled 2
Feeding Frenzy
Peggle
Wii Sports
2010
Super Mario Bros.
Super Mario Bros. 3
Pokémon Diamond
New Super Mario Bros.
Bomberman (DS)
Bubble Bobble Revolution
Harvest Moon DS
Mario Party DS
Super Mario 64 DS
Tetris DS
Everybody Edits
Innkeeper
2011
ATV: Quad Frenzy
Pokémon White
Grand Theft Auto: San Andreas
Active Worlds
Gravity Guy
Minecraft
The Sims 3 (J2ME)
2012
Powershot Pinball Constructor
Second Life
Habbo
Kirby's Epic Yarn
New Super Mario Bros. Wii
Mario Kart Wii
Super Mario Galaxy 2
Mario Power Tennis
Mario Super Sluggers
Mario Strikers Charged
Mario & Sonic at the London 2012 Olympic Games
Cars 2
Epic Mickey 2
Wii Party
U.B. Funkeys
Syobon Action/Cat Mario
2013
DSCraft
IMVU
ROBLOX
Kirby's Return to Dreamland
Club Penguin
Panfu
The Powder Toy
Clash of Clans
Hill Climb Racing
Drunken Boxing
2014
Geometry Dash
BlockWorld (Minecraft Bootleg)
SurvivalCraft (Minecraft Bootleg)
The Sims FreePlay
School of Chaos MMORPG
Jetpack Joyride
Parkour City
Super Mario 64
2015
The Sims 4
League of Legends
El Tigre: The Adventures of Manny Rivera
2016
Super Mario World
Super Mario Bros. X
Garry's Mod
Kodu Game Lab
2017
Tomodachi Life
Kirby Super Star Ultra
Kirby: Squeak Squad
XG Blast!
Run
Scratch
Rollercoaster Tycoon 2 (OpenRCT2)
Half-Life 2
DOOM
Jump Ultimate Stars
2018
The World Ends With You
VVVVVV
Cave Story
Kirby Mass Attack
Half-Life
Mario Kart 8
Super Mario Galaxy
Kirby & The Amazing Mirror
2019
Xonotic
JoJo's Bizarre Adventure: Heritage for the Future
2020
Phoenix Wright: Ace Attorney
2021
OpenArena
Minetest
Pissed
2022
Kirby's Adventure
Kirby: Nightmare in Dreamland
Kirby Air Ride
Grand Theft Auto: Vice City
FlightGear
JoJo's Bizarre Adventure: Eyes of Heaven Among Us
2023
Among Us 64 DS
Jazz Jackrabbit 2
South Park (N64)
South Park: The Stick of Truth (PC)
South Park (GBA)
South Park Rally (N64)
The Binding of Isaac
OpenEdits
Quake
Quake 2
Quake 3 Arena